Passion and business- Face to face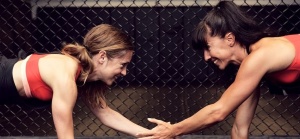 Last weekend I had the opportunity to be a part of my fellow Nike Master Trainer Joslyn Thompsons event "Women in Fitness Summit 17" in London. I´m still high on the energy and power of more than 60 women, sharing the same passion for fitness, and truly helping others to stay healthy and feel good about themselves. Not about any quick fixes, a nice body, but being strong from inside..

As new, or old (as myself), in the fitness industry, it is not easy to choose your path, to find your true value and not be influenced by everything everyone around you post and share. Of course we all get inspired, but also feel a lot of pressure, and then even more important to know your value.

My talk was about creative healthy business. I believe we should surround us with people that gives us energy, people we can share (and try) our creative ideas on, people that push us to be yourself and people that can tell us when we are on the wrong path.

My passion is all about helping others to grow, in a fitness class, at an instructor training, as a business coach or as a manager at my daily job. That is my true passion, no matter how many followers I have on instagram, how many attendees at my class or how many likes I got at my last post. Don´t take me wrong, I do see that there are so much good stuff out there on instagram that inspire and help people, but for me it´s all about the meeting, the IRL, the face to face, to see that sparkle when you see a person grow..

"We´re all capable of much more than we think we are"