Speaking of being strong from inside... Inner Strength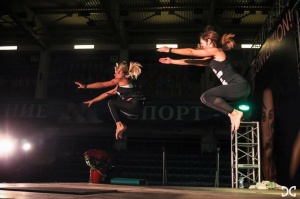 I feel so thankful that I have the opportunity to work with so many powerful women in my different projects/concepts: Malin Berg, Åsa Fornander and Madelinn Fernandez, to mention a few..

A few weeks ago Malin and me went to Novosibirsk Russia for ITS convention. I have been there before and just love the energy and the experience that no matter language we can connect through movement and music.

For the first time me and Malin did our new concept Inner Strength on a big stage. Although I sometimes feels soooo unflexible next to the amazing gymnast Malin, I just love to teach together, to bring out our different part in this concept. Me NOT being the gymnast ;)

But the essence is that I don´t have to be the gymnast ;), i can adjust it to my level, and get a class that works for my body and challenge me just as much as I want. For me that is the most important thing with all my classes, helping everyone working from inside to out, feeling strong from the core...